Patient Engagement Integration Sequence
The sequence diagram below illustrates how the interaction sequence between Ocean and a third-party system to generate patient-specific weblinks that can be embedded in the third-party system's secure messaging service. The patient will access the weblink to complete Ocean eForms, after which Ocean will notify the third-party system to collect the completed forms.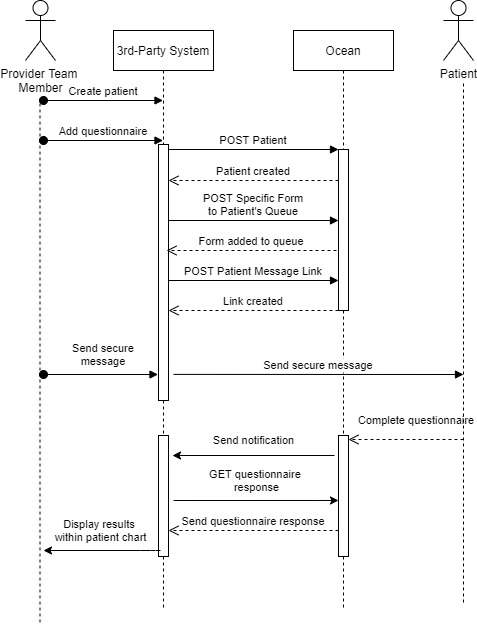 Webhook Validation
The webhook requires the URL to respond to a challenge in order for it to work properly. Testing with a webhook that is not ready to provide the challenge token in the response will fail validation.
For additional information, please see our API Docs
https://ocean.cognisantmd.com/public/apiDocs.html#section/Webhook-Endpoint-Validation
Payload Encryption
The encryption code in the Ocean API documentation is an example that illustrates the correct encryption flow and highlights the encryption library (CryptoJS) we use and recommend when working in Javascript. But the encryption scheme is just standard AES encryption so you will absolutely be able to encrypt/decrypt this data in other languages. For instance, For Ruby, you can use the OpenSSL module in the standard library to run the AES ciphers to encrypt and decrypt the data. There are also likely other external AES/cryptography gems you can use if you have a preference.